Marketing is so very important when trying to get your name out there. In my experience, I'd say that marketing might even be more important than the product itself. Companies spend literally millions upon billions of dollars every year getting their names out there with the hopes of a good return on investment.
One area you must master is to tell the customers about your business. It's a simple concept but a difficult one to succeed in. I can talk about different ways of marketing all day but for this article, I want to show you some of the most basic ways to create a tri-fold brochure using Google Docs and finally getting it printed in mass quantities in the most economical yet effective way.
So you're trying to market your business and you want a way to design flyers so that you can print them out and hand them off to customers. I've got a treat for you.
Can you create a tri-fold brochure using Google Docs? While Google Docs doesn't support or normally have a built-in template to easily create a tri-fold brochure, you can build it from scratch using a few tools to manipulate and design the layout on your own. The process is easy, however, you don't get options like color gradient and background designs.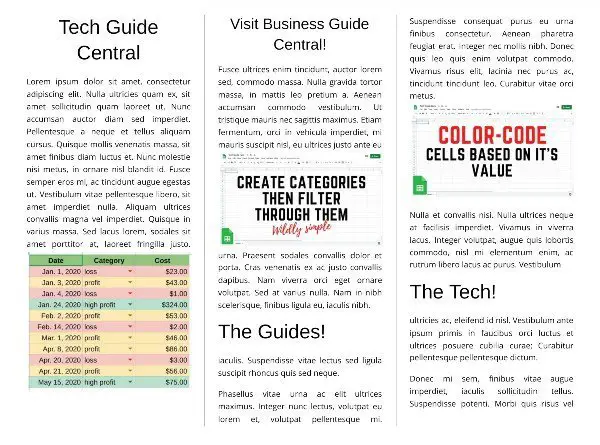 The steps are really easy and straight-forward. I want to show you an easy way to create this:
How to create a tri-fold brochure in Google Docs
Open up Google Docs and sign in.
Go to File then Page setup then check the box labeled Landscape.
Change all 4 margins to 0.5 inches or less.
Click Ok.
Go to Format > Columns > More options
Make Number of columns equal to 3 and Spacing equal to 0.5 inches
Go ahead and check the box labeled Line between columns to easily differentiate columns. Remember to uncheck it after the brochure is completed.
Click Apply
Create your content in each of those 3 separate columns
Google Doc does not support inserting a background image on your document
Google Docs currently has a limitation that most people know about. It's that when you create a brochure or even a flyer, you oftentimes want a background image. As feature-rich as Google Docs is, it still doesn't have the ability to add a unique or even color gradient background to its document. So if you are looking for, let's say, a watermark where it stays in the background and you can write over it. Well, it isn't available on Google Docs.
There's not much of an easy way to get around this. There is however a slightly complicated way to getting this done, but it will take a bit of work and some trial and error.
The basic concept that most people will explain on the web about adding backgrounds to your Google Docs is by creating that background and text all on a separate program. This background and text would really be saved as a single image file like a jpg or a png. Then you would have to simply insert that image into Google Docs and resize it or move it around appropriately.
While this alternative method will work in some cases, if you're trying to make the background continuous across the entire sheet it won't work. Images can't cross the bordered columns and so you won't be able to get that continuous flow of background crossing into each column.
Google Slides is better at making a tri-fold brochure than Google Docs
Does Google Slides support inserting background images? The answer is yes. There are a ton of different design options available for Google Slide users. A few of the big ones include color gradient, custom background settings, and transparency changing.
I might be the first to admit this but I found Google Slides to be way better at making brochures than Google Docs. This is because, from a design perspective, Google Slides offers us a ton of design choices. These include putting in images anywhere on the screen we wish and also moving things around and snapping them into any position we like.
No more need to create 3 columns and having each of those columns blocked off from each other. With Google Slides, it's just a large paper canvas that we can create on.
I should make a how-to article for Google Slides in the near future then.
Design your brochure the right way (you're probably doing it wrong)
Formatting your marketing items is extremely important in the sense of grabbing attention and giving people a short and concise dose of what it is you are trying to convey.
You got to keep in mind here that a study done by Microsoft in 2015 found that the attention span of a person is about 8 seconds. This is in response to being introduced to something unknown or new to that person like being shown a random video to watch or an article to read. Today's society is extremely fast-paced and I don't doubt the importance of getting your point across within less than a dozen seconds or lose a customer forever.
That's not very much time to tell the audience a lot about your business. How does this correlate to a paper brochure? It's the same concept. Your brochure should point out your highest cards on the table in a really short and concise manner.
There are also keywords that can capture the reader's attention as well. Words like "Free", "Bonus", "Lifetime" are just a few that come to the top of my head.