What is the Synology Surveillance Station?
The Synology Surveillance Station is a powerful yet, a free application available from within the official Synology website. It allows users to monitor their network traffic, view lives camera feeds, record video clips, and even remotely control devices such as routers or switches using SSH commands.
It basically turns your NAS into a security camera storage center instead of either on a memory card or in the cloud.
You can also set up alerts when certain events occur, like if someone tries to access unauthorized websites or uploads files without permission.
The Synology Surveillance Station can be installed on any of your Synology devices. It's easy to set up and use. The software has been designed with simplicity in mind to avoid having to worry about complex settings. You just need to install it once and then start using it immediately.
Synology Surveillance Stations come with license requirements
Licensing plan
Synology will provide you with a single included license that allows you to work with surveillance devices.
If you need more you can purchase from one of three options. There are licensed packages for one, four, and even eight surveillance devices.
What's confusing is that these are single licenses that allow more camera devices than the default single license that only allows one.
Unfortunately, if you are wondering what is the max number of camera devices that each Synology NAS can handle, you'll have to check the device manual itself.
License units
A regular IP camera, a panoramic fisheye camera, and a Synology live cam will typically require only one license for one device.
Other devices such as a video server may require up to eight licenses. This is because a video server may be able to connect up to as many as eight cameras. This is why you'll need a license that can support up to 8 cameras.
How to activate a Synology Surveillance station license
If you're looking to activate your license for the first time, there are a few easy steps to follow.
On your Synology dashboard, click on Main Menu.
Then click on License.
And finally click on Add.
An installation setup will appear to guide you through the rest.
Sometimes, you may have enough licenses that come standard with your Synology NAS, typically known as your default license. However, if you for some reason need more you can purchase extra licenses as needed.
There are a few possible defaults you may receive depending on the device.
Synology NAS gets two default licenses.
Synology Network Video Recorder (NVR) gets four default licenses.
Synology Deep Learning Network Video Recorder gets eight default licenses.
Unfortunately, you can't simply buy two licenses and use them on a single Synology product. Again, if you have multiple cameras, you're likely to have to buy a license that can support that many cameras.
Pros of the Synology Surveillance station
You were given complete control over what you could do which includes customizable recording features as well as the ability to change your recording settings.
This method actually supports hundreds and even thousands of IP cameras that exist on the market. You shouldn't have a problem with finding an IP camera that works well with this feature.
The user interface is actually quite impressive. It's easy, intuitive, and simple to understand. You'll be able to remote in and manage whatever you need through the app.
Another thing is that you will have what some might call complete privacy. While other security cameras will transmit your data to the company's servers and perhaps even get processed and stored in the company's cloud, your footage will go straight from the internet into your Synology NAS.
There's no monthly fee for how much video you store on your NAS. You won't be charged any type of subscription for it.
If your internet happens to fail, it won't affect your system. You won't be able to connect to it from abroad, but you will be able to connect to it directly.
You can use PoE cameras that will still work and stay operational even if you have a power outage.
Cons of the Synology Surveillance station
There's likely to be a bit of a learning curve to set up your cameras with the feature on your NAS.
This method seems to currently only work with IP cameras, or cameras with IP capabilities.
Storage size depends on how much your server can handle. However you can easily upgrade your storage.
Synology Surveillance features
Being that it's a free tool from Synology, you wouldn't think that there would be so many features. The fact is, you couldn't be further from the truth. Below is a list of some of the best features I've found that Synology provides for free based on the surveillance tool.
Live view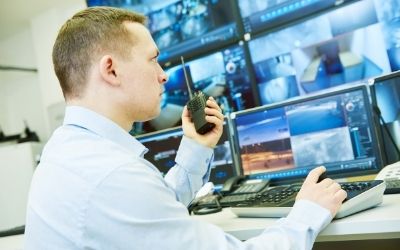 This feature provides real-time footage of what's actually happening in front of your cameras. If your camera does support movement, you can tap into the controls and a directional pad will appear on your screen.
You can move the camera in any direction you want. By moving the camera remotely, you can pretty much see everything.
Timeline tool
This tool allows you to travel back in time and check whatever footage you want. This is a very handy feature that allows you to capture any moment from the past or the present.
Viewing past storage is prompted by a calendar and a date.
It is helpful when you suspect that something has happened or is happening around your home or building.
Smart Search
As described above, you can look back through the entire history of all your recordings at any point in time. But the problem is there might be so much footage and video that you probably wouldn't know where to start.
With Smart Search, you can filter out and look for specific motions of objects, focus, and more throughout your footage history. You can even draw on the screen to direct the system on where to look and scan and you will be notified if anything happens in that specific area.
Recording tool
This feature is probably the most foundational feature of all security cameras. It saves and manages your list of videos that have been recorded through your cameras.
You'll be able to look at them through different filters such as by date and even hours.
Mobile app
Synology also provides us with an app called the "DS cam." It's a pretty well-thought-out app. However, it does have fewer features than the full desktop version of the surveillance tool.
With the app, you'll be able to do basic security camera things such as live viewing, panning, tilting, speaking, listening, and more through your camera.
However, you may not have all the settings, configurations, and controls you normally use outside of the desktop version.
FAQ
Do you need to renew Synology Surveillance device licenses?
There's no need to renew your Synology Surveillance license. Once you've bought it, it's pretty much yours forever.
How many cameras can I use with Synology Surveillance?
Where can I buy surveillance licenses?
Synology actually has a ton of authorized sellers in this market. Here's a list on the Synology website that can help you narrow down your search.
Do I need to renew my surveillance licenses?
No. Once you purchased your surveillance device license pack, it's good forever.
How do I migrate surveillance licenses to another Synology device?
Remember, you can only use one key license on one Synology device at one time. If you happen to get a new Synology device, you can transfer your old license over to your new device. This is known as migration.
Start by connecting your Synology device to the internet.
On your old device, click on License.
Write down your license.
Then click on Delete.
On your new device, click on License.
Then click on Add.
Follow the steps and click Next.
Input your license keys into the provided text box and then click Add.
Can I migrate a surveillance default license to another Synology device?
Unfortunately no, a default surveillance station license is not transferable and cannot be migrated between different devices.
The alternative approach would be to share the default license through the centralized management system on Synology servers across your device.
Where can I manage my installed surveillance device licenses?
Fortunately, Synology provides us with a licensed app where you can see a list of all your surveillance devices and they are associated licenses.
The bottom line
If you are at the point where you want to completely control your camera surveillance and footage, I recommend you trying out Synology Surveillance Station.
This is a manually built highly customizable system that will allow you to fully control and take on full privacy of all your data.
You also be able to save a ton of money by doing such things as avoiding those subscription fees from the typical surveillance cloud offers in the market today.
Other interesting articles: